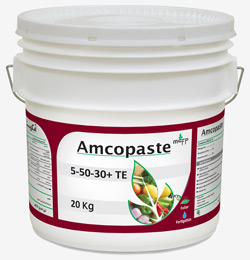 Amcopaste 5-50-30 + TE
A formula that contains high analysis of Phosphorus and Potassium which are highly soluble.
This formula will increase the quality and quantity of flowers and boosts the fruit setting.
It's recommended to be applied at stages flowering, fruit setting & development, especially for vegetables which have overlapping stages of flowering, setting and fruit development.
The available Micronutrients will enhance the flowering, fruit setting and development; it will also correct any deficiency.