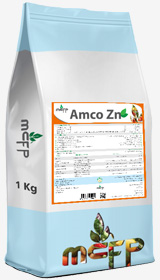 Zinc is an essential component of various enzyme systems for energy production, protein synthesis, and growth regulation. It takes part in the formation of tryptophan which is a precursor of auxin IAA.
Amco Zn chelate (Zn EDTA) is in water soluble powder form.
Recommended for soil & foliar application for correction of zinc deficiency.